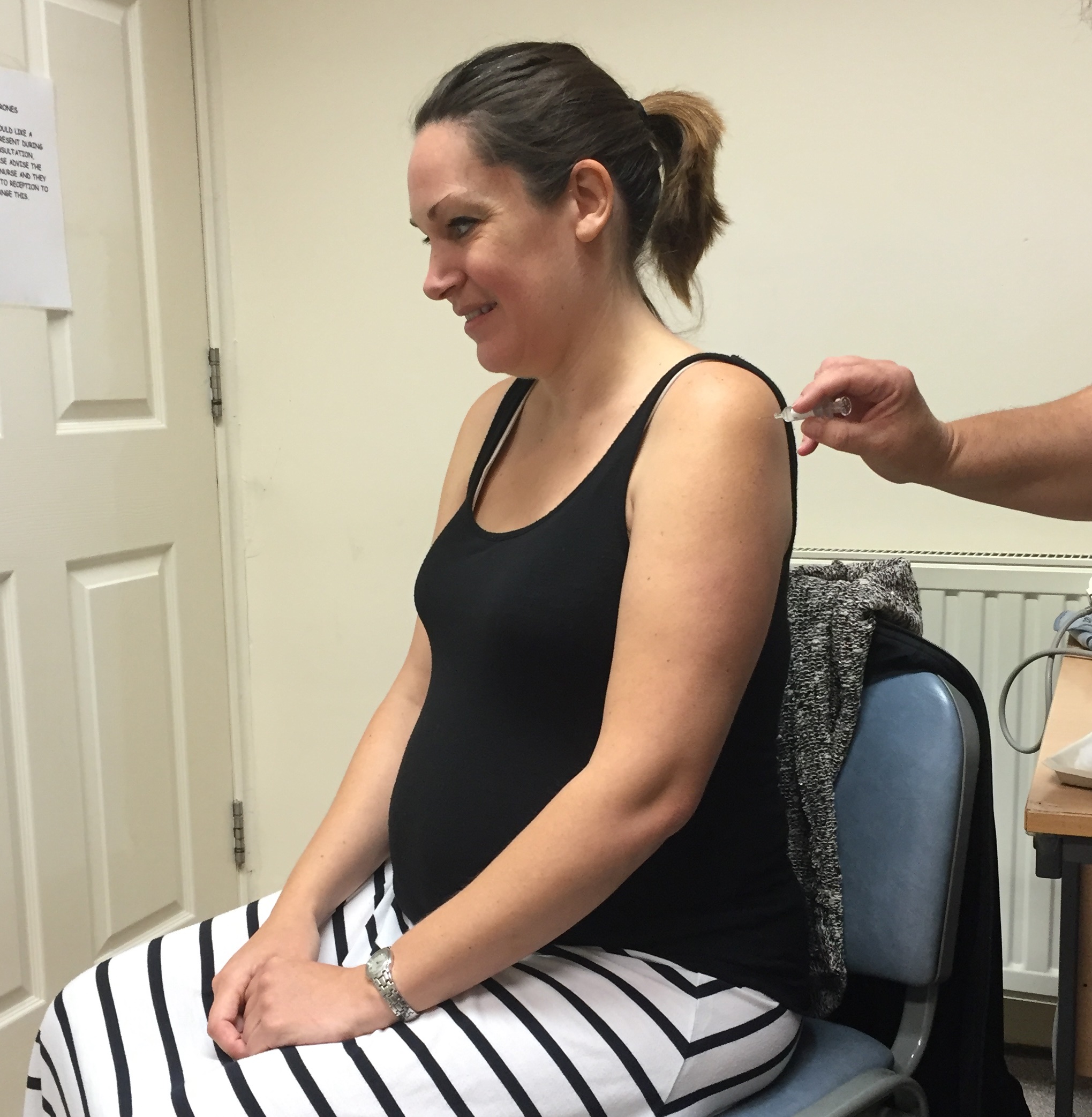 Press Release issued via NHS England
Doctors, pharmacists and midwives are urging pregnant women across Kent and Medway to protect themselves and their unborn child by having the flu vaccination this winter.
The free flu vaccination is available from their GP, maternity service provider or pharmacy and it's important that mums to be protect themselves and their baby as soon as possible.
Flu can make otherwise healthy people feel very poorly for up to a fortnight. There is also strong evidence that pregnant women have an increased risk of developing complications if they get flu, potentially harmful to mother and the unborn baby. These risks include bronchitis, pneumonia and increased risk of miscarriage, or the baby being born prematurely or with a low birthweight.
Claire Smith from Gravesend has already had her vaccination and said: "I know pregnant woman are more at risk of developing complications from flu and I want to protect myself and my baby. Having the vaccine is the best way to avoid getting the flu. I strongly believe vaccination is important part of health care at all stages of life, but we should be especially aware of what is available to us when we are most vulnerable."
Flu is highly infectious and easily spread from person to person. The viruses are constantly changing and this is one of the main reasons why pregnant women should be vaccinated annually. The symptoms, which can come on very quickly, included fever, chills, headaches, aches and pains din the joints and muscles and extreme tiredness.
Dr Alison Milroy, NHS England South East Deputy Medical Director and a Kent GP, said: "All pregnant mums should make every effort to have the flu vaccination during their pregnancy. It's important to recognise that significant risks exist to both mother and unborn child if they contract the flu virus. Complications are reduced by having a simple vaccination, and I would urge all pregnant women to have the vaccination as soon as possible as this will offer protection to both mother and baby."
The flu vaccination is not harmful and offers the best protection – studies show that the vaccine is safe during any stay of pregnancy, from the first few weeks right up to the expected due date; if the flu vaccination is taken during pregnancy some protection is also passed on to the baby, which lasts for the first few months of their lives.
Kent County Council's Director of Public Health, Andrew Scott-Clark said: "Pregnant women are at increased risk of serious complications and death from flu compared with other healthy adults. Flu can also affect the pregnancy, resulting in stillbirth, prematurity and low birthweight. This is serious for new-born babies, who cannot be protected themselves by vaccination, but gain some protection if their mother is vaccinated in pregnancy. The mother's antibodies from the vaccine help to prevent serious infection from flu for the baby in first few weeks of life. We urge Kent's pregnant women to contact their GP now and get the free flu jab."
Caption: Mum to be Claire Smith is vaccinated at Pelham Medical Practice in Gravesend.
ENDS
Editor Notes:
1. Those at most risk include pregnant women, people living with health conditions such as severe asthma, chest or heart complaints, and those aged 65 and over.
2. More information is available on NHS Choices.
Media enquiries: Please call Tasha Gardner, Communications and Engagement Manager, NHS England (South East) on 0113 825 1447 or 07568 431 738 or tashagardner@nhs.net