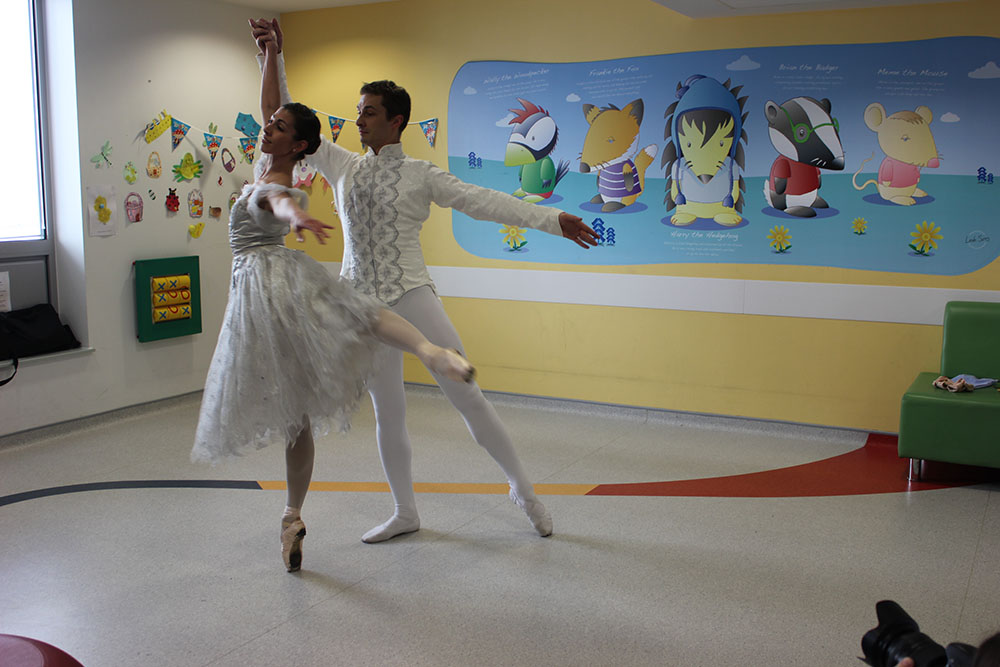 Some young patients at Tunbridge Wells Hospital had an unexpected treat last Friday when the English Youth Ballet paid a visit, and performed a special show.
Principal dancers, Monica Tapiador and Brendan Bratulic, with ballet mistress, Julianne Rice-Oxley, and company manager, Scott Butterworth, attended Hedgehog Ward and Woodlands Unit to show patients and visitors what it's like to be a professional ballet dancer.
Their warm up and subsequent performance was watched by a number of children waiting for appointments and some patients who were well enough to leave their hospital rooms, as well as their parents, carers and ward staff, and enjoyed by all.
Hedgehog ward manager, Alice Francis, said: "It was a pleasure to welcome the English Youth Ballet to Hedgehog Ward and Woodlands. Their performance was captivating, and provided a lovely distraction for many of our patients and their families. We would like to thank Scott and the rest of the company for taking the time to come and visit."
Scott Butterworth, company manager, said: "It was a pleasure to visit Tunbridge Wells Hospital and perform for patients and staff. It is wonderful to bring ballet to those who may not otherwise have an opportunity to see it, and in a location such as this one, it provides an interesting and stimulating break for a child staying in hospital. We hope everyone enjoyed the performance."
The English Youth Ballet will be performing the ballet, 'Coppelia' at the Stag Theatre, Sevenoaks, from Thursday 19 May until Saturday 21 May, during which they will be raising money, through their bucket appeal at the end of each show, for Hedgehog Ward.
Ends