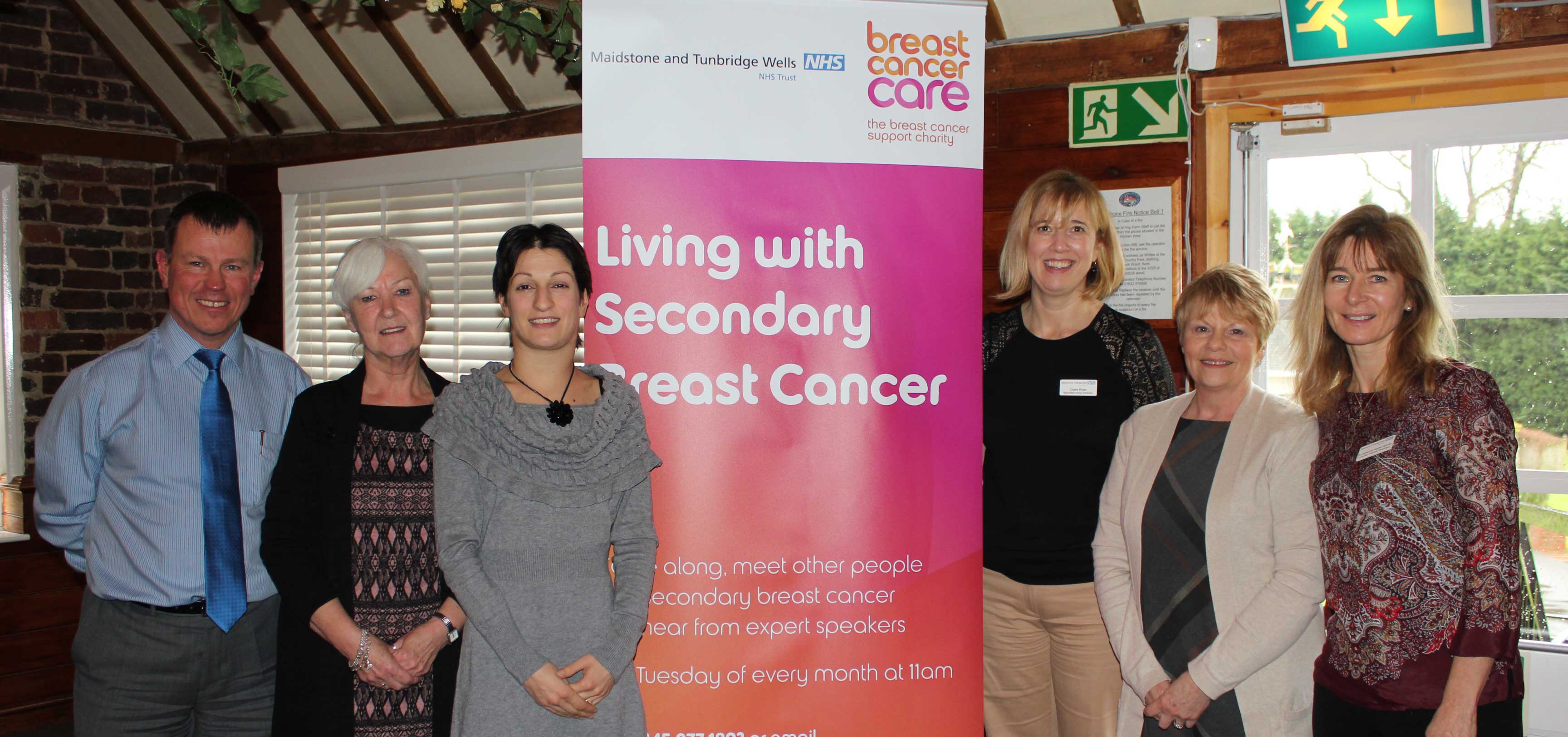 An event on 1 March 2016, at the Hop Farm in Paddock Wood, marked the launch of an official pledge from Maidstone and Tunbridge Wells NHS Trust (MTW) to make changes to improve the service and care for secondary breast cancer patients.
The UK's leading breast cancer charities – Breast Cancer Now and Breast Cancer Care – teamed up to help (MTW) identify important changes to improve services for local people diagnosed with incurable secondary breast cancer.
There are around 36,000 people living with secondary breast cancer in the UK – cancer that has spread beyond the breast or armpit to other parts of the body, such as the lungs or liver. Secondary breast cancer cannot be cured but it can be treated and controlled, sometimes for a number of years.
The Secondary Breast Cancer Pledge was designed with secondary breast cancer patients in mind. It gives them the opportunity to work with the two charities by providing their view on what matters most to them and their care.
Through questionnaires and workshops over the past year a range of patient-led service improvements at the hospital have been identified, these include:
Clinicians working with a patient focus group to develop a directory of local services available for people living with secondary breast cancer
Streamlining referrals to counselling services to provide emotional support for patients and relatives
Piloting the use of Information Prescriptions to identify tailored and relevant information for patients at each stage of their secondary breast cancer
Working with community and other primary care organisations to deliver a family service that supports parent-child communication and other parenting needs relating to living with secondary breast cancer
Setting up an acupuncture service to ease the side effects of treatment and promote emotional and physical wellbeing
Ensuring patients get relevant information about their cancer and treatment in a timely manner.
The medical and nursing team at the Trust now run specialist clinics for patients with secondary breast cancer and, as a result, have increased the recruitment to clinical trials by 50% in the past year.
In addition, a monthly support group, funded by local charity Breast Cancer Kent in partnership with Breast Cancer Care, was launched in September and has rapidly become the best attended 'Living with Secondary Breast Cancer' programme in the UK.
Delyth Morgan, Chief Executive at Breast Cancer Now and Samia al Qadhi, Chief Executive at Breast Cancer Care, said: "We are delighted that Maidstone and Tunbridge Wells NHS Trust has pledged to achieve top standards of care for people living with secondary breast cancer.
"Those living with the disease require specialist support to address their complex needs and the uncertainty they face about the future.
"It is wonderful that patients sit at the heart of this pioneering initiative and that we're helping to ensure they receive the best treatment and care."
Joanne Aston from Maidstone, who has secondary breast cancer, said: "This pledge, for me, feels like my opinions and views matter and that I am a person, not just a list of symptoms. There is a plan going forward, action is being taken and results are being seen already, which is fantastic. This will really make a difference to people with secondary breast cancer."
Claire Ryan, Macmillan Nurse Clinician for Metastatic Breast Cancer said: "The Breast Team at the Trust are proud of the care they provide for secondary breast cancer patients – 90% of the respondents felt that services for those with Secondary breast cancer at MTW were either excellent , good or very good. However, the team does recognise that there are always improvements that can be made. We are committed to ensuring that the service given to patients is the best it can be. It has been a very positive experience working in partnership with our patients in developing this pledge and we are looking forward to continuing to work together in the future to provide an excellent level of care."
Dr Russell Burcombe, Consultant Oncologist for MTW, said: "Yesterday marked 12 years since I started at Maidstone Hospital as a consultant, and since then we have come a very long way in terms of how we listen and act upon the feedback that our patients give us.
"This pledge means that we are addressing the things that are most important to our patients which, in turn, means we will be able to provide an even better service, focused on the things that really matter."
ENDS
Notes to editors
For more information contact Maidstone and Tunbridge Wells NHS Trust Communications on 01622 228658 or via mtw-tr.communications@nhs.net
1 Secondary breast cancer statistics are an estimate taken from New pathways of care for cancer survivors: adding the numbers, Maher, J. and McConnell, H. British Journal of Cancer, 2011
About Breast Cancer Now
Breast Cancer Now is the UK's largest breast cancer charity – and the only one dedicated to funding research into this devastating disease.
Breast Cancer Now's ambition is that by 2050 everyone who develops breast cancer will live. The charity is determined to stop women dying from the disease, working in a new, collaborative way and bringing together all those affected by the disease to fund research, share knowledge and find answers.
Breast Cancer Now's world class research is focused entirely on breast cancer. The charity supports nearly 450 of the world's brightest researchers at more than 20 locations across the UK and Ireland. Together, they're working to discover how to prevent breast cancer, how to detect it earlier and how to treat it effectively at every stage so we can stop the disease taking lives.
Breast cancer is still the most common cancer in the UK. Nearly 700,000 people living in the UK have experienced a diagnosis and one in eight women will face it in their lifetime. This year alone, more than 50,000 women will be told they have the disease.
The UK still has one of the lowest breast cancer survival rates in Western Europe and this year alone nearly 12,000 women will lose their lives. It's time to act.
Breast Cancer Now launched in June 2015, created by the merger of leading research charities Breast Cancer Campaign and Breakthrough Breast Cancer.
For more information on Breast Cancer Now's work, visit breastcancernow.org or follow us on Twitter or on Facebook.
About Breast Cancer Care
When you have breast cancer, everything changes. Time becomes measured in appointments. The next scan. The next results. The next challenge.
At Breast Cancer Care, we understand the emotions, challenges and decisions you face every day. So, from the day you notice something's not right to the day you begin to move forward, we'll be here to help you through.
Whether you want to speak to our nurses, download our specialist information or connect with volunteers who have faced what you are facing now, we can help you feel more in control.
For care, support and information from day one, call our nurses free on 0808 800 6000 or visit breastcancercare.org.uk
Funding for the Secondary Service for Breast Cancer
Breast Cancer Now and Breast Cancer Care were initially awarded a grant up to a maximum of £70,524 for 2012–13, and provisionally and subject to the availability of funds approved by Parliament, up to a maximum of £58,792 in 2013–14 and £59,879 in 2014–15.
This award is made under the provisions of Section 64 of the Health Services and Public Health Act 1968.
The Department of Health has awarded the programme three years' worth of funding to work with 15 hospitals across England.