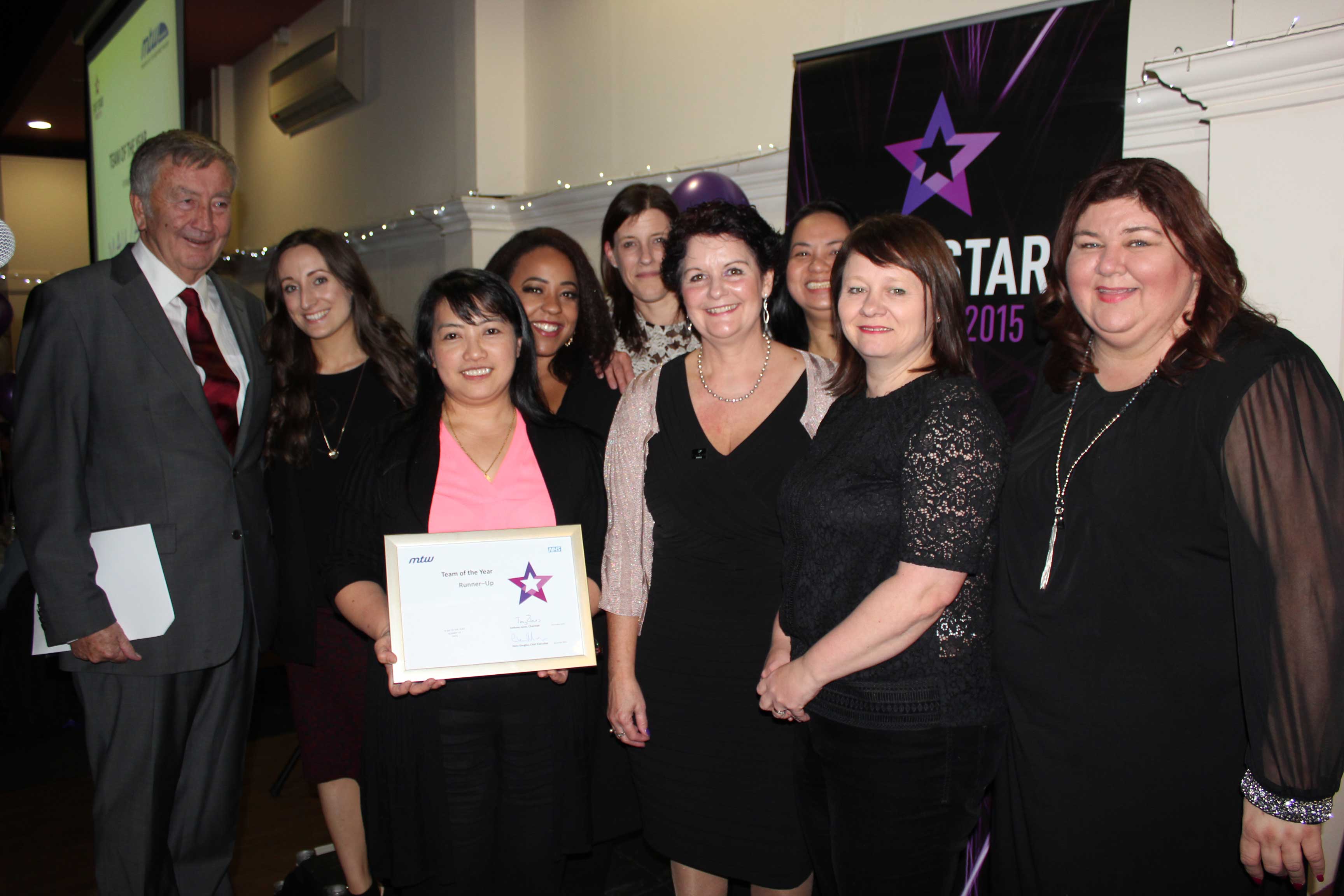 Earlier on in the year we asked patients, visitors and staff to nominate members of staff and teams at Maidstone and Tunbridge Wells NHS Trust (MTW) for our yearly Staff Stars Awards which recognise those who have gone over and above expectations within their professional role.
We had a huge number of nominations this year across all wards and departments at the Trust.
The winners and runners-up were announced at an awards ceremony which took place on Friday 20 November.
Certificates and prizes were presented by our Chief Executive, Glenn Douglas, and our Chairman, Tony Jones, as well as our special guest, Cheryl Fergison, who played the long-running, much-loved character Heather Trott in Eastenders.
Cheryl nominated the Kent-based Ellenor Hospice to receive the proceeds from our charity raffle on the night – over £775!
Patient First
Runner up – Individual: Tom Blyth, Paediatric Consultant, TWH
Winner – Individual: Jane Elliott, Colorectal CNS, Maidstone
Runner up – Team: Gemma Bassett and Vivienne Smith, Haematology Secretaries, TWH
Winner – Team: Maidstone Hospital Early Pregnancy Assessment Team, Maidstone
Respect
Runner up – Individual: Ruth Casey, ENT OPD Sister, Maidstone
Winner – Individual: Coralle Baillie, Ward 22 Manager, TWH
Runner up – Team: Sheila Bates and Claire Randall, Midwifery Liaison Officers, TWH
Winner – Team: Security Team, Maidstone
Innovation
Runner up – Individual: Marie Griffiths, Junior Sister, ITU, Maidstone
Winner – Individual: Sherwin Sinocruz, Nervecentre Project (secondment from ITU), TWH
Runner up – Team: Nicola Cooper and Michelle Kleingunther, CAU Team leaders, both sites
Winner – Team: ITU Sisters, Maidstone
Delivery
Runner up – Individual: Alison Jankowski Clinical Manager for Therapy Assisted Discharge Team
Winner – Individual: Shelley Green, HCSW, UMAU, Maidstone (represented by Jane Turner)
Runner up – Team: Estates Project Team for ward decant at TWH, cross-site
Winner – Team: GUM, cross-site
Excellence
Runner up – Individual: Dr Karun Shetty, Associate Specialist in T&O, TWH
Winner – Individual: Caroline Bush, Junior Sister, Outpatients, Maidstone
Runner up – Team: Pharmacy teams, cross-site
Winner – Team: Mercer Ward, Maidstone
Kent Messenger Newspaper Hospital Heroes Award
Winner: Claire Ryan, Macmillan Nurse Clinician
Courier Newspaper Hospital Heroes Award
Winner: Dr Nikila Pandya, Consultant Paediatrician
Special Recognition Award
Winner: Maidstone Hospital League of Friends and Tunbridge Wells Hospital League of Friends
Pride Award
Winner: Hilary Thomas, Matron and Deputy Head of Midwifery (retired August 2015)
Sylvia Denton Award for Care and Compassion
Winner: Dr Scott Takeda, Consultant Cardiologist
Chairman's Award
Winner: Chantelle Menzies-Beer, Clinical Specialist Physiotherapist for the Pulmonary Rehabilitation Service
Volunteer of the year
Runner Up: Terry Collins, Volunteer Chaplain, Tonbridge Cottage Hospital
Winner: Jayne Raffill, League of Friends volunteer, Maidstone
Team of the Year
Runner Up: Medical Assessment Unit/Ambulatory Assessment Unit, TWH
Winner: Surgical Nursing Teams, cross-site – encompassing Short Stay Surgery Maidstone and TWH, Ward 10, Ward 11, Cornwallis and Peale
Employee of the Year
Runner Up: Dr Serafeim Antonakis, clinical fellow in Ophthalmology, Maidstone
Winner: Simon Newcombe, Senior Biomedical Scientist