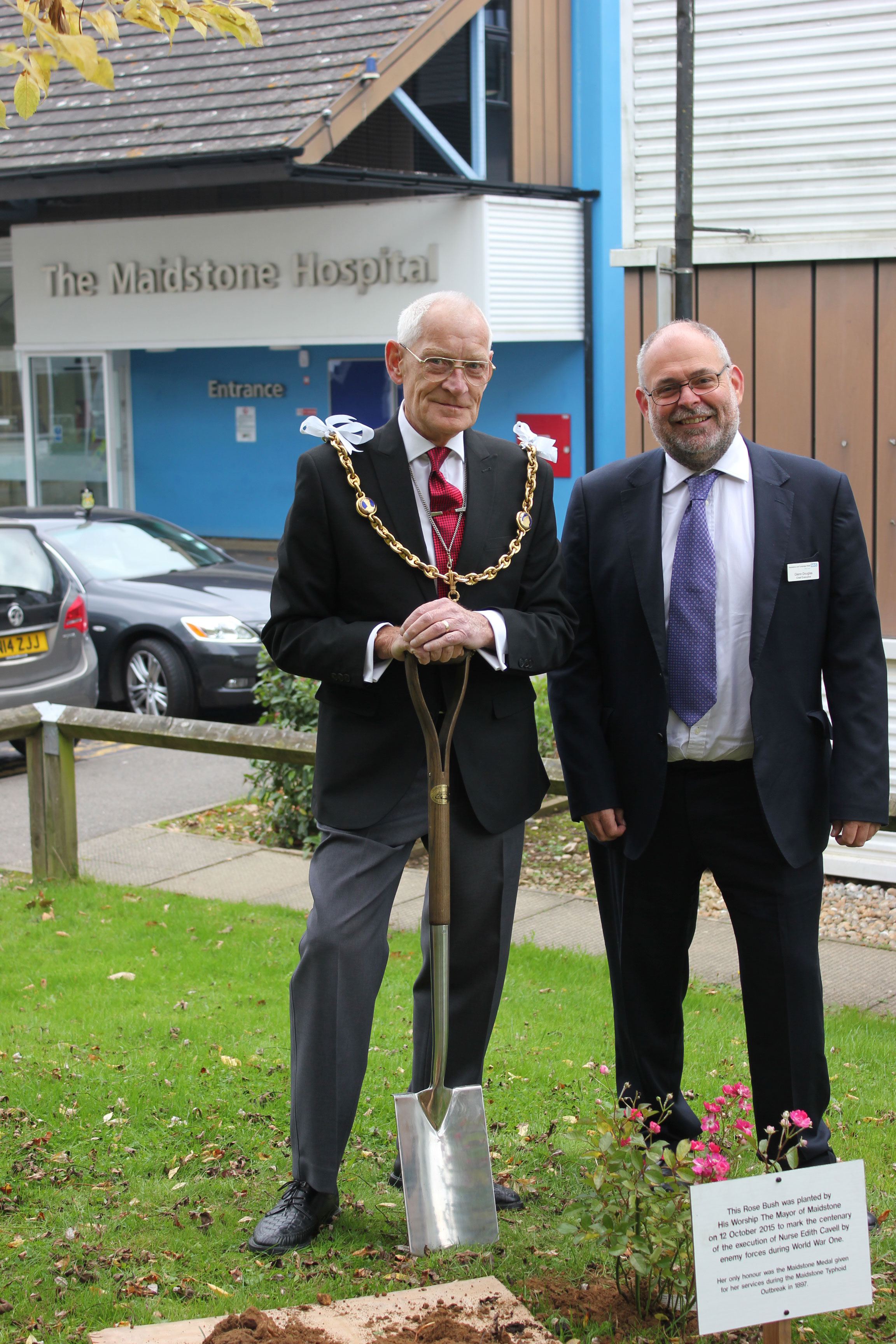 Today, exactly 100 years after her execution, a rose has been planted at Maidstone Hospital, in memory of British nurse, Edith Cavell.
The Edith Cavell rose, was planted in the grounds at the front of the hospital by Mayor of Maidstone, Cllr Daniel Moriarty, and Glenn Douglas, the Chief Executive of Maidstone and Tunbridge Wells NHS Trust.
Who was Edith Cavell?
Edith Cavell was born in 1865 in Norfolk, but she moved to Belgium before returning to care for her sick father. It was then she decided to train as nurse at the Royal London Hospital.
It was during her training that she was sent to Maidstone to help during the Typhoid emergency. The Maidstone outbreak was the biggest in the UK, affecting over 1847 people – 132 of whom died.
Once the outbreak was over, nurses were given the Maidstone Medal for their services – it was the only honour that she received.
In 1907, Edith moved to Belgium and eventually became Matron of the first Nurse Training School.
At the outbreak of war in 1914 she was visiting family in the UK and quickly travelled back to Belgium. She set about nursing soldiers from all sides, regardless of background, race or rank, and did her best to smuggle British and Allied soldiers through neutral Holland to safety. The German forces suspected her and she was arrested. After a long investigation they convicted her and she was sentenced to death.
Despite international condemnation, she was executed by firing squad at dawn on October 12th 1915. On the eve of her death she famously said, "Patriotism is not enough – I must have no hatred or bitterness towards anyone."
Edith Cavell, who was 49 at the time of her execution, was already notable as a pioneer of modern nursing in Belgium.
Her memorial in central London carries these words and a fund set up in her memory still helps nurses today.
More details and photos can be seen in the display on the ground floor corridor of Maidstone Hospital.