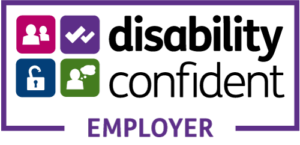 The Trust is committed to taking positive action for disabled people and is recognised as a Disability Confident Employer. A Disability Network Forum was launched in 2016 which will ensure that the Trust continually improves equality in the provision of healthcare, other services and employment and complies with equality, non-discrimination and human rights law.
 Forum Aims
Provide a forum for staff to talk about issues that specifically affect them
Raise awareness of disability in the workplace and host events, diversity days and initiatives
Raise concerns of discrimination with senior leaders in the Trust
Support the career development of disabled staff
Provide strategic advice to MTW on the issues affecting disabled staff
Provide advice and guidance in the development and review of Trust policies and procedures
Provide advice and guidance in personnel issues including recruitment, selection, retention and training
Consider reports on disability issues at MTW, including reports relating to monitoring data and good practice
Promote MTW as a great place to work for disabled staff
Liaise with disabled service users and disability community groups to raise awareness of their health needs and their perceptions of the NHS
The Workforce Disability Equality Standard (WDES)
The WDES is a set of ten specific measures that enable NHS organisations to compare the experiences of Disabled and non-disabled staff. We have used the data to develop a local action plan which we will demonstrate progress against the indicators of disability equality.
The WDES has been commissioned by the Equality and Diversity Council (EDC) and developed through a pilot and extensive engagement with NHS Trusts and key stakeholders. It is mandated through the NHS Standard Contract and is restricted to NHS Trusts and Foundation Trusts for the first two years of implementation.
Read our WDES 2020/21 action plan here
Read our WDES 2020 results here.
Read our WDES 2019/20 action plan here
Read our WDES 2019 results here.
Making a difference for disabled staff
The WDES is important, because research shows that a motivated, included and valued workforce helps to deliver high quality patient care, increased patient satisfaction and improved patient safety.
The implementation of the WDES will enable NHS Trusts and Foundation Trusts to better understand the experiences of their Disabled staff. It will support positive change for existing employees and enable a more inclusive environment for Disabled people working in the NHS. It will also allow us to identify good practice and compare performance regionally and by type of trust.