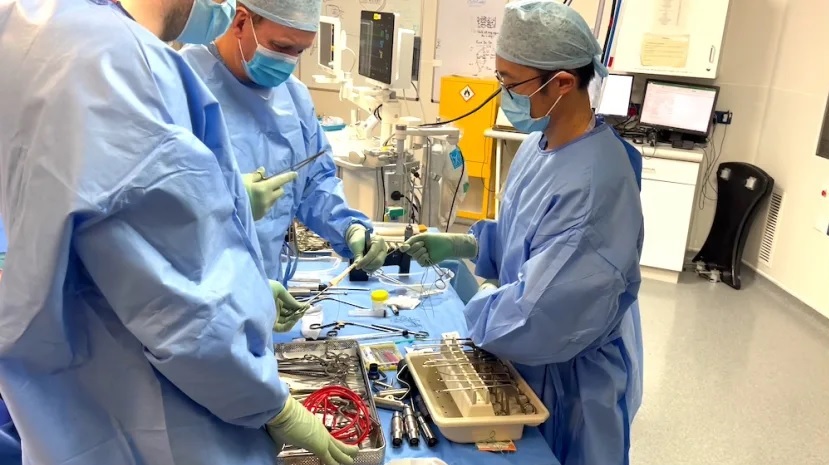 Young patients who have torn their anterior cruciate ligament (ACL) are the first in the country to benefit from pioneering reconstructive knee surgery being trialled at Tunbridge Wells Hospital.
ACL injuries happen when a severe twisting force is applied to the knee, and are often seen in people who play sports such as football, netball or skiing. The new procedure to repair this type of injury is part of a unique clinical trial underway at Tunbridge Wells Hospital, part of Maidstone and Tunbridge Wells NHS Trust.
The surgery is usually done by taking part of the child's own hamstring tendon to create a new anterior cruciate ligament, which connects the two bones making up the knee. The surgery being trialled at the Trust involves taking the hamstring tendon – a donor tendon – from a parent to make the repair. The technique was pioneered in Australia and it is hoped that eventually it may be offered as routine surgery in the UK.
The project is led by Consultant Orthopaedic Surgeon, Nick Bowman who said: "There are a number of advantages to this new technique. First, the child's own hamstring tendons are not disrupted which improves their recovery. Second, the tendon taken from the parent will be larger, making it more suitable as the child grows, which we hope will reduce the re-injury rate. And finally, if the child is injured later in life, they still have their own hamstring which could then be used to repair a tear."
Helen Samuel, the specialist Orthopaedic Research Physiotherapist who supports the patients while they are injured and as they complete their recovery from surgery, said: "To finally open a study that looks like it will be really beneficial to our patients – and might change the pathway for these patients throughout the NHS – has been a great experience."
Matthew Milbank is an aspiring footballer with Gillingham FC Academy. He tore his ACL playing football in 2022 and was offered the opportunity to take part in the trial to repair his torn ligament. His father, Andy Milbank, who donated his tendon to his son as part of the new procedure said: "It's one less complication for the child to recover from. He's got major knee surgery, but hasn't (also) got to worry about his hamstring."
Clare Milbank added "The support and care both Matt and Andy have received from all the team involved at Tunbridge Wells Hospital, along with Gillingham Football Club, has been incredible and we can't thank them enough."
BBC South East and ITV Meridian have both featured reports on the LIVing Donor Allograft for Anterior Cruciate Ligament Reconstruction Study (LivD_ACLR).