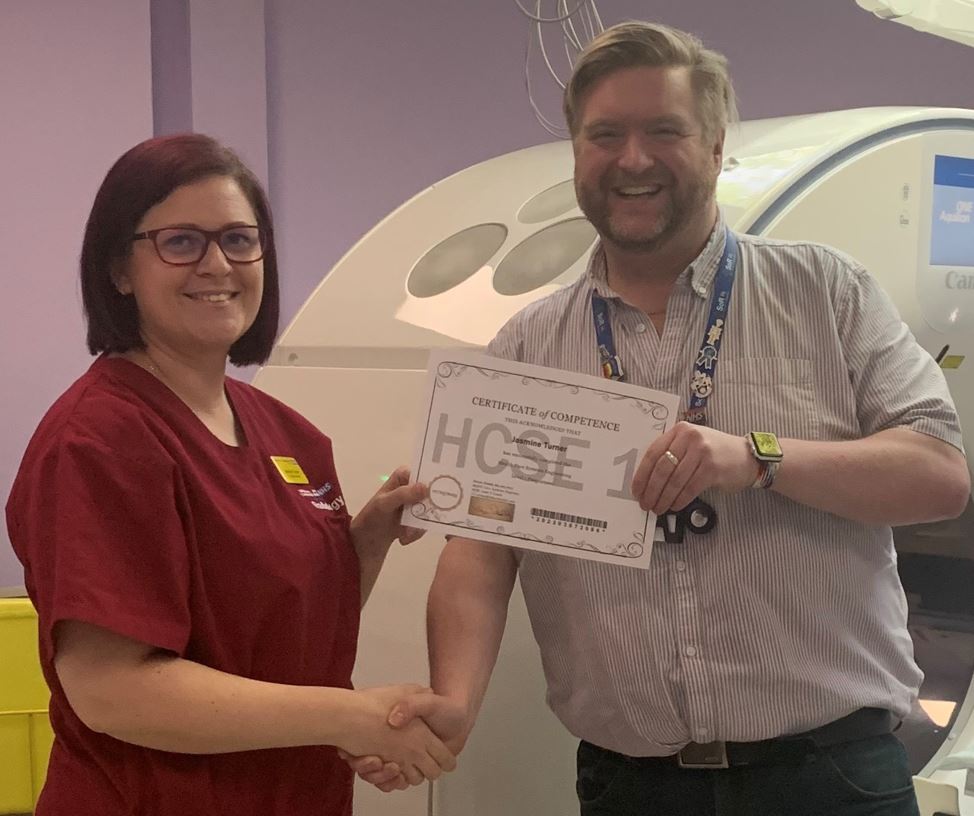 Jasmine Turner, CT Superintendent Radiographer at Maidstone and Tunbridge Wells NHS Trust (MTW), has become the third practising radiographer in the UK to complete the level 1 HCSE (Health Care Systems Engineering) qualification. Jasmine is now the second member of staff at MTW to be qualified in the discipline, following in the footsteps of colleague Richard Flood, HCSE manager for Core Clinical Services.
HCSE helps hospitals and healthcare providers to look at their current practices, identify areas of improvement and implement changes that would benefit patients and improve their care.
Jasmine trained for the qualification as part of a Kent and Medway Imaging Network initiative to increase efficiency and to reduce patient wait times across all CT (computerised tomography) scanners in the network. A CT scan uses X-ray and a computer to create detailed images of the inside of the body, including internal organs, blood vessels and bones and can identify damage to bones and internal injuries. The scans can also determine the size and location of a tumour before a patient starts radiotherapy treatment, and play a key role in the Trust's stroke and cancer services.
Over the past 18 months, the Trust has led on a project with the Kent and Medway Imaging Network to measure and map the CT and MRI services across the network. The MTW team has looked at how efficiently the Trust uses its diagnostics resources, measured the impact of the non-clinical workforce and suggested improvements which could be made to benefit both staff and patients. Their work has been met with a hugely positive response from other healthcare organisations, with many stating they would now be looking at how to measure their own services.
Speaking of her qualification and the wider Kent and Medway Imaging Network project, Jasmine said "The changes implemented have had a substantial impact on the CT department for both patients and staff alike. By relieving pressures in the acute CT scanners, we have been able to reduce lead times for all pathways coming through the department, resulting in better patient experiences. The less pressured environment has improved staff morale while building a calmer and more productive workplace. Having the qualification means I am able to interpret weekly performance data coming out of the department and be responsive in making changes where required to ensure that we continue to put the patient first."
Dave Merrett, Head of Radiology Services at the Trust, commented: "This is a massive achievement not only for Jasmine but also the whole MTW Imaging Team, who have been recognised nationally for leading on this style of improvement work."