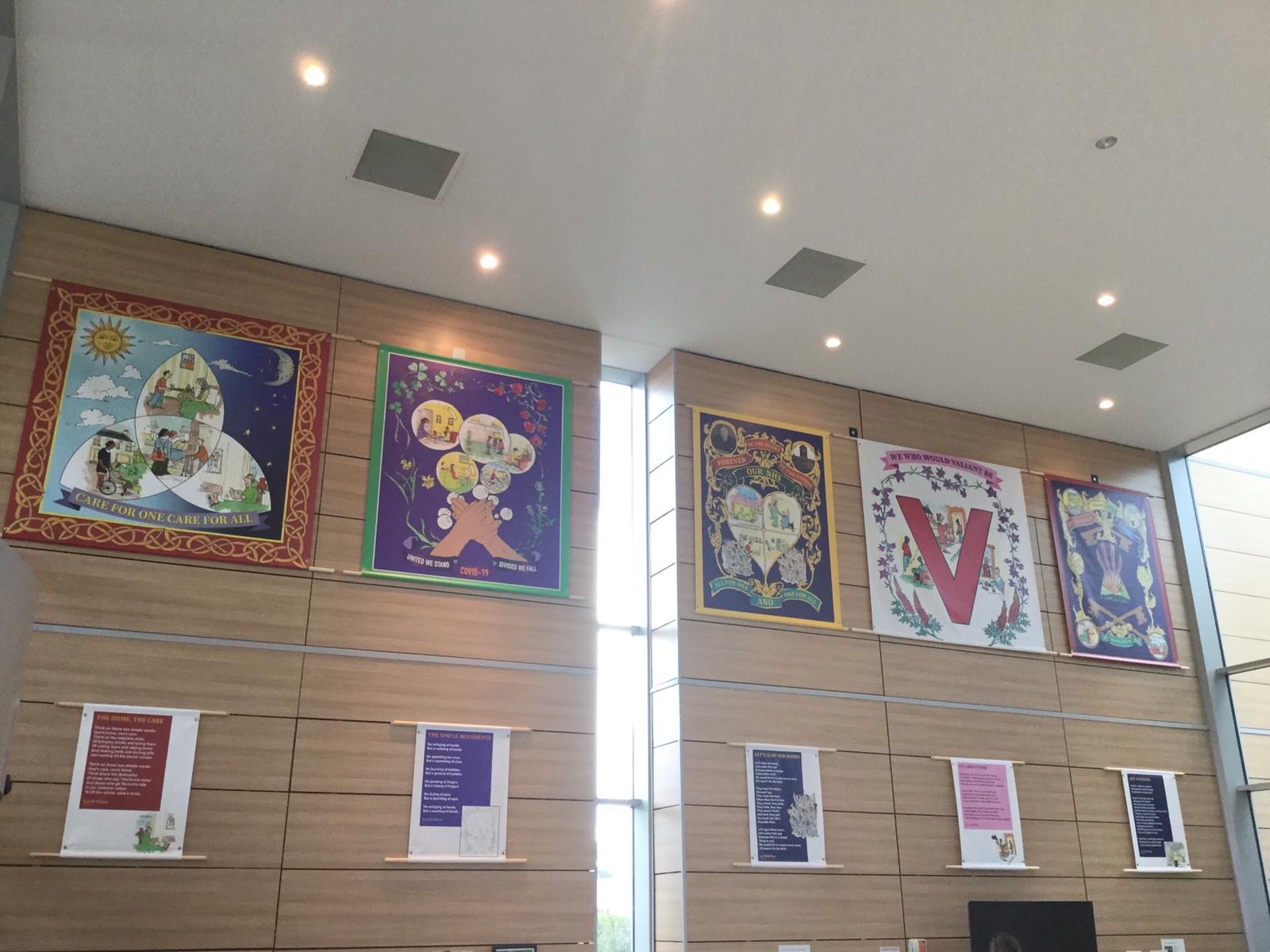 Five pieces of artwork created by renowned artist and photographer Ian Beesley now take pride of place in the main reception area of Tunbridge Wells Hospital.
Named The Lockdown Banners, they celebrate the NHS, carers, keyworkers, volunteers and society for overcoming issues raised during the coronavirus pandemic.
Although Ian came up with the initial designs the final pieces of artwork were brought to life with the help of Tony Husband – a British cartoonist, and Martyn Hall – who works as a senior creative designer for the Joseph Rowntree Foundation. A poem penned by British poet Ian McMillan also sits beneath each of the banners to support the artwork.
For the last five years Ian has been creating large colourful banners for dementia support groups across the country as part of a project launched by the University of Exeter to help campaign for a better understanding and representation of dementia by highlighting health and social issues on them. The designs were inspired by the Confederation of Health Service Employees (OHSE) banners which are held in the national banner collection at the People's History Museum in Manchester.
Following a suggestion from one of the dementia groups to create a banner for the NHS to thank them for their efforts during the pandemic, Ian decided to create a series of them with the idea for the fifth one coming from Maidstone and Tunbridge Wells NHS Trust's Chief Executive Miles Scott.
Ian said: "I've known Miles Scott for many years now as we worked together when he was the Chief Executive of Bradford Teaching Hospitals NHS Foundation Trust. Following a message I posted on Twitter that we would provide copies of the four banners we'd created to NHS Trusts across the country, Miles contacted me asking if he could have a copy of them to hang in one of the hospitals he worked for.
"When I told him there was meant to be five in total but that we couldn't decide on the theme for the fifth, he suggested focusing on society as a whole and the fact that if we all do the best we can now we'll end up with the best outcome for society later – so that's how the design for the fifth one came about."
The Trust's Chief Executive Miles Scott said: "I am extremely grateful to Ian and his colleagues for enabling us to bring the work to Tunbridge Wells Hospital. They are wonderful pieces of work which reflect positivity during these challenging times.
"I hope patients visiting the hospital will enjoy looking at the banners as much as I and the rest of the staff here at MTW do."