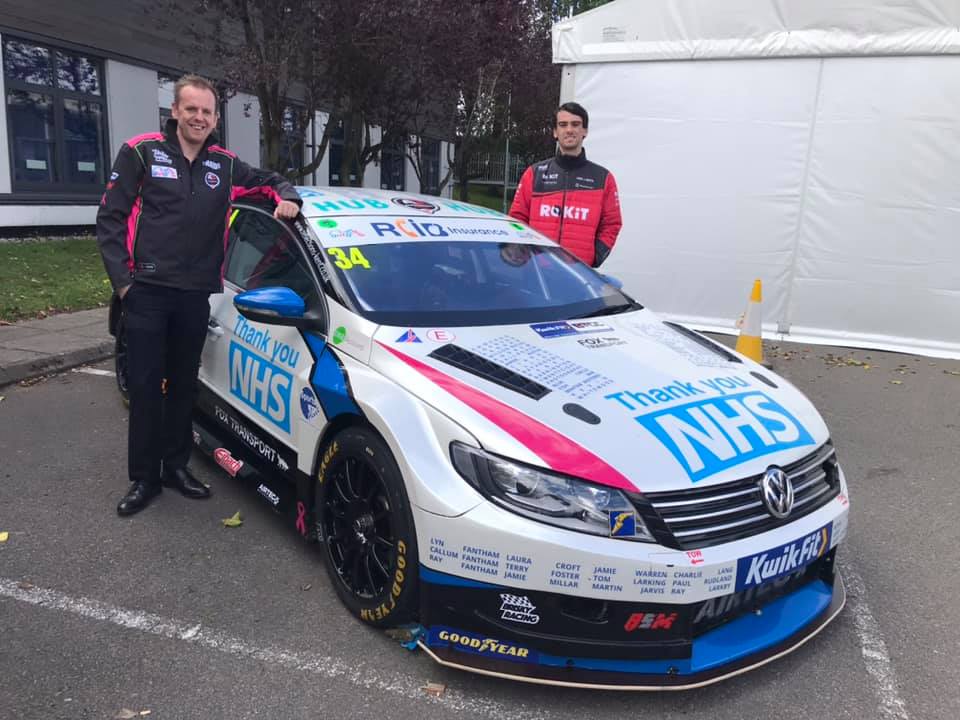 A race car made a pit stop at Maidstone Hospital on Tuesday (28 July 2020).
Team HARD Racing parked its British Touring Car Championship VW CC in one of the hospital's car parks between 8.30am and 2pm so staff, patients and visitors could get up close and personal with the vehicle which has helped generate more than £2,000 for Maidstone and Tunbridge Wells NHS Trust's dedicated charity.
The money was raised after the team and its partners set up a fundraising campaign for the Trust which allowed racing fans to have their name on the team's British Touring Car Championship VW CC in return for a donation of £10 or more. Their names will also appear alongside special thank you messages to everyone who donated.
To thank people for their generosity, the team plans on running a special race livery at the opening round of the British Touring Car Championship (BTCC) which is usually viewed by over 13 million people on ITV4.
Tony Gilham, Managing Director of Team HARD, said: "The fundraiser was setup to show our support to the staff at Maidstone and Tunbridge Wells NHS that have been working day and night to save people's lives during the Covid-19 outbreak.
"We are a family racing team based in Maidstone and the staff at Maidstone and Tunbridge Wells hospitals are directly helping to keep our loved ones safe and healthy during this time.
"Without the entire NHS this situation could have been a whole lot worse and we can't think them enough for all everything they have done. Thanks to them we will be able to go racing again and life will eventually return to some sort of normality.
"You have supported us from the stands, now it's time for us to support you."
In addition to the fundraising campaign, the team also donated three pairs of tickets for staff to win a fantastic VIP race experience at Brands Hatch on Sunday 15 November.
Laura Kennedy, MTW NHS Trust's Fundraising Manger, said: "We are so grateful to Team HARD for getting behind our staff and making such a generous donation.
"The racing car's star turn at the hospital generated a lot of excitement and we wish Team HARD every success at the next British Touring Car Championships."