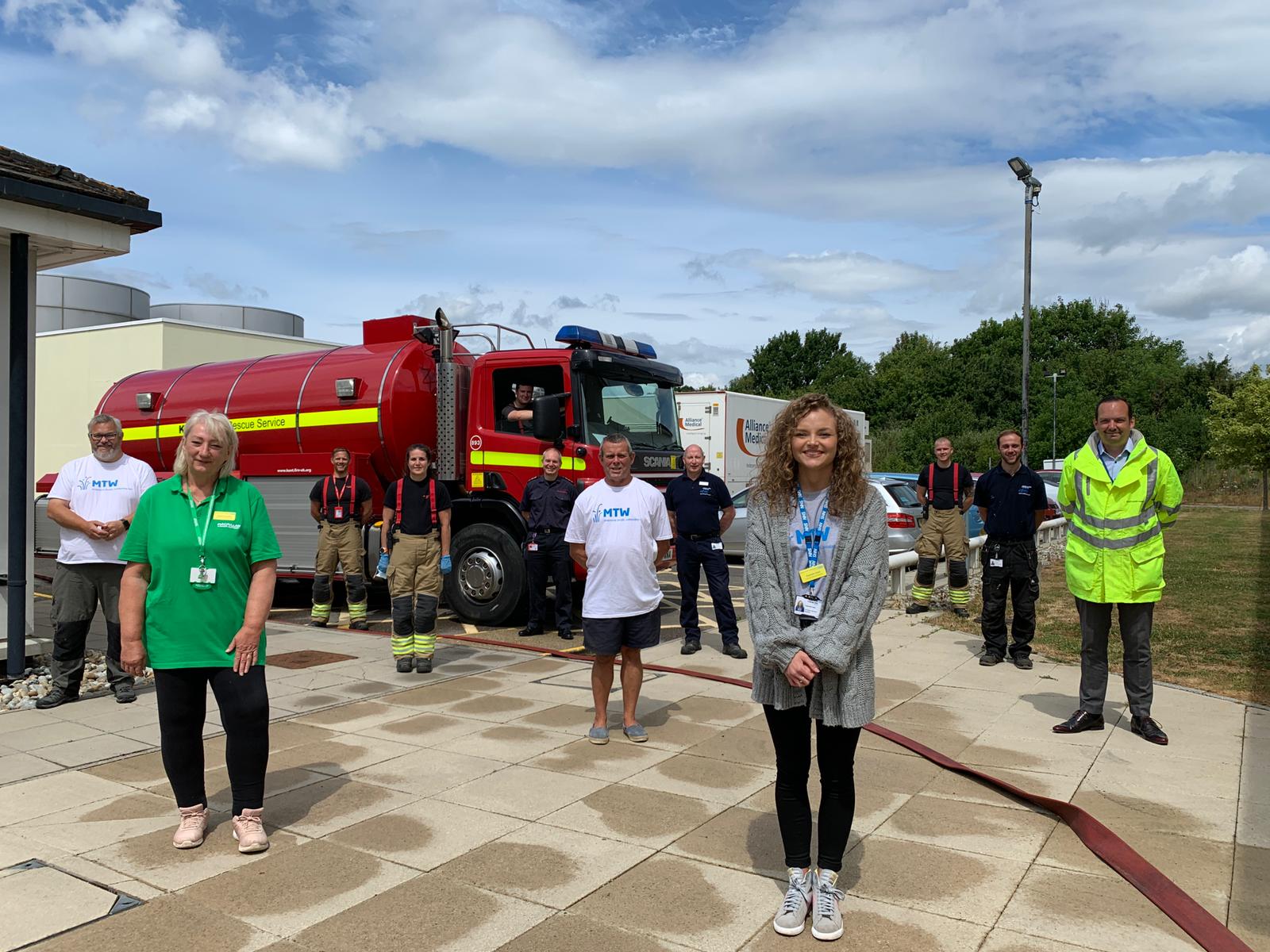 A hospital garden makeover has been completed thanks to volunteers, Kent Fire and Rescue Service (KFRS) and South East Water joining forces.
Debbie Stansfield, who works as an Assistant Manager for Macmillan Cancer Support at Maidstone Hospital, approached Kent Fire and Rescue Service (KFRS) to see if they could help refill the pond in the courtyard garden of the Kent Oncology Centre after a group of volunteers drained and cleaned it as a part of the transformation project.
Following discussions with South East Water, the utility company agreed to donate water to fill the pond. KFRS then offered to use their bulk water carrier to collect the water and transport it to Maidstone Hospital and pump it in to the pond using a hose reel.
The water, which was delivered on Sunday 7 June 2020, marked the final touch to the work which had been carried out by a group of volunteers over the course of several weeks to give the garden a new lease of life.
Debbie came up with the idea at the start of the pandemic after she noticed it was looking tired in need of some TLC.
She said: "I posted a message on Facebook asking the local community for donations to transform the garden and within a matter of days people had donated plants, paint, gardening tools and flowers.
"A former Kent Oncology Centre patient made glass artwork to place among the flowers and the family of a cancer patient who sadly passed away funded several sun parasols and some of the plants. Steve Shearman from East Farleigh also stepped in and loaned us a holding pond for the fish to be held in whilst the pond was cleaned.
"I was truly touched by the response to the appeal."
The work to re-paint the existing garden furniture, clear the flower beds, drain and clean the pond and replant new flowers was carried out, in their own time, by Debbie and her husband Nick, alongside their two children Harry and Lizzie and their partners. Maidstone and Tunbridge Wells NHS Trust's Voluntary Services Manager Anne-Marie Stevens-Swain, her husband Paul, and Charlotte Head, Voluntary Services Assistant also pitched in.
A Hearts of Hope display has also been installed. It features laminated hearts attached to a wooden trellis which contain messages from patients and staff who work in the Kent Oncology Centre about what they're looking forward to after lockdown.
Debbie added: "As the work was nearing completion I started to wonder how we were going to refill the pond so I spoke to Kent Fire and Rescue Service and they, together with South East Water stepped in and helped us out. We are extremely grateful to both organisations for the part they played in enabling us to complete the project and restore the garden to its former glory so both patients and staff can enjoy it."
Among the Larkfield based firefighters overseeing the transfer of water on the day was Kerry Mitchell who underwent radiotherapy treatment at the Kent Oncology Centre eight years ago after she was diagnosed with breast cancer.
She said: "In December 2012 I was a patient receiving treatment for cancer at the centre and I often looked into the garden and found it calming.
"It's lovely that it's had a makeover. Having been on the other side as a patient, I know how valuable the garden is. It can provide patients with a little bit of respite and allow them to take a bit of time out.
"The day after filling the pond (Monday 8 June 2020) marked eight years of me being clear of breast cancer so it was a strange coincidence that I ended up back at the centre adding the finishing touch to the garden."
Julian Hartley, Station Leader at Larkfield Fire Station, said: "We're really pleased we were able to offer our services to Maidstone Hospital by helping to transport the water needed for the pond in its refurbished oncology courtyard garden.
"We're sure many patients and their loved ones will enjoy it for years to come."
A spokesperson for South East Water said: "We all know water is vital for hygiene and physical health but it can also provide important mental health benefits too. We hope access to this pond gives all who visit it a place to relax."