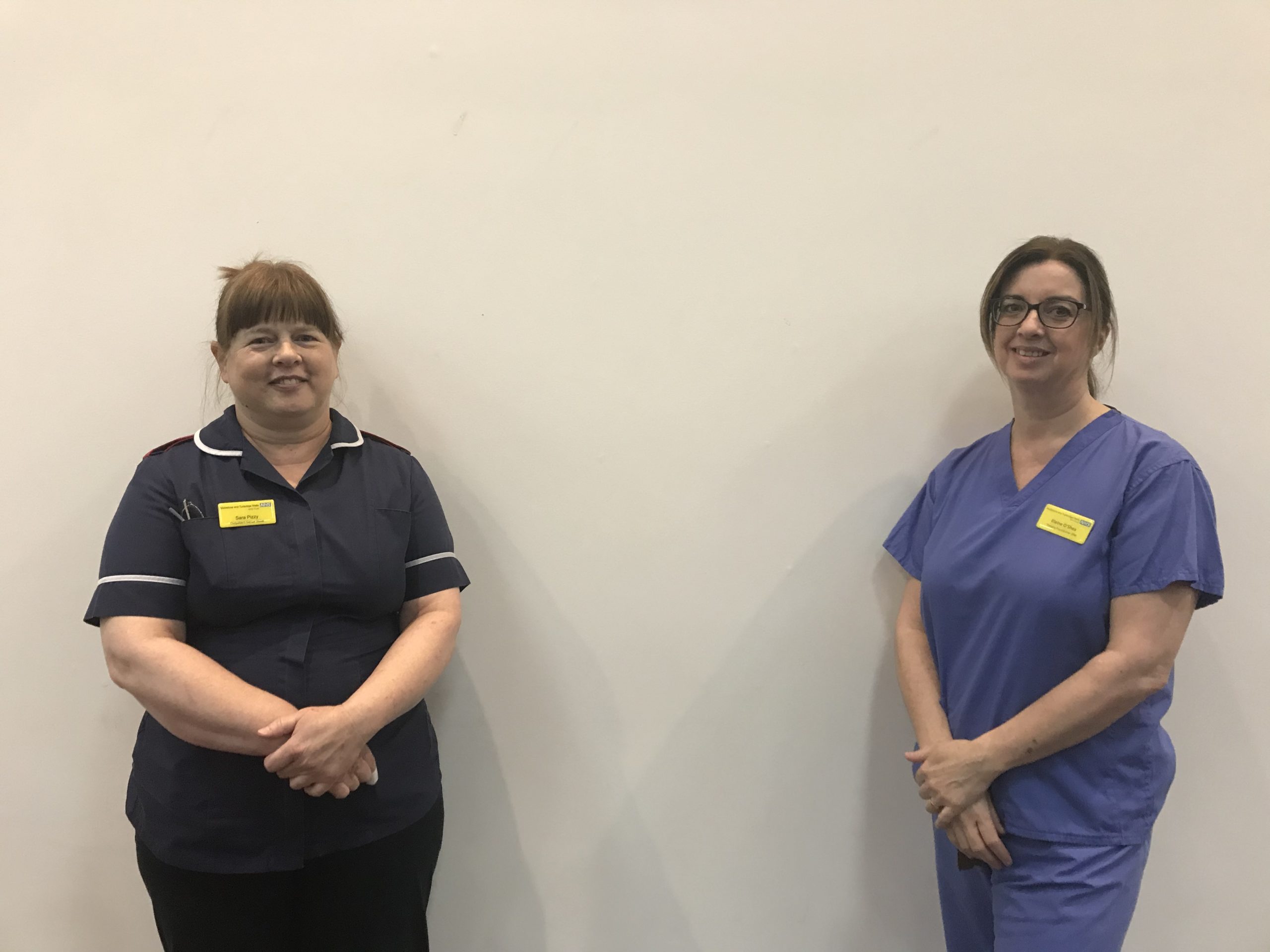 Two nurses who started their careers with Maidstone and Tunbridge Wells NHS Trust 30 years apart, sat down and shared their experiences with one another in a video which was put together to mark International Nurses Day (Tuesday 12 May 2020).
Outpatient Department Manager Sara Pizzy, who started her nursing career in the 80s, and Theatre Staff Nurse Elaine O'Shea, who began her nursing career in September 2019, asked each other a series of questions to help shine a spotlight on the different nursing roles available within the Trust and highlight the differences between qualifying as a nurse three decades ago compared with today.
In the video, which can be viewed here, Sara and Elaine, who had never met before, spoke about their current roles, why they chose their professions, and how they have coped with the challenges they have faced during the current pandemic.
Sara said: "I started nursing as soon as I left school. I did a pre-nursing course before I started nursing. It's been 35 years now so a long time but it felt like it was the thing I needed to do.
"I think we all feel nervous when we first qualify and you make that huge leap but it's a fantastic opportunity to meet people from every walk of life at every stage of their life and to be able to contribute to that and know you have done something with your own life, that's how it feels for me."
Elaine, who has been redeployed to the Intensive Treatment Unit (also known as the Intensive Care Unit) at Maidstone Hospital during the pandemic, said: "I qualified six months ago and I started with the Trust in the operating department. Then I was redeployed to help care for patients with Covid-19.
"I'm currently working in ITU looking after ventilated patients and I have been doing that for about seven weeks now.
"The ITU staff have been incredible. They've been so welcoming and understanding and taught us so well.
"It sounds cliché but I just love helping people."
To celebrate the work of the 1,540 nurses currently employed by Maidstone and Tunbridge Wells NHS Trust, a series of events were held on International Nurses Day which also marked the 200th birth anniversary of Florence Nightingale.
Hampers filled with food items as well as a thank you note, were put together by a team of volunteers. They were then delivered by the Trust's senior nursing team to nurses working the day shift at Maidstone Hospital and Tunbridge Wells Hospital. Another delivery was made later in the day to those working the night shift.
Badges emblazoned with the words 'Proud to be an MTW Nurse' were also handed out along with hand creams kindly donated by members of the public.
Another video which featured nurses from Maidstone and Tunbridge Wells hospital sites, passing a lit lantern between one another in different locations was also shared on the Trust's social media sites. The lamp symbolised each nurses' calling to serve  the sick and injured – just like Florence Nightingale who was also known as the 'Lady with the Lamp'. To view the video click here.
Renny Heald, Ward Manage for Pye Oliver Ward at Maidstone Hospital, put together a display in the reception area of the hospital which featured photos and details of well-known nurses as well as images of MTW nurses when they first qualified. Among the faces were Chief Nurse Claire O'Brien, Deputy Chief Nurse Judy Durrant and Sally Foy, Divisional Director for Nursing and Quality for medicine.
Tasty treats such as cakes and cupcakes were also provided courtesy of Brakes.
Chief Nurse Claire O'Brien said: "International Nurses Day provides us with an opportunity to shine a light on the amazing work which is carried out day in, day out by our nurses. It is also a chance for us to thank them for all that they do and continue to do.
"Nobody could have imagined that we would be where we are today – in the middle of a pandemic. Yet in that time our nursing family has continued to grow as we welcomed overseas nurses, as well as student nurses and midwives who put themselves forward to start their careers early so they can provide valuable support to our staff on the frontline.
"Whilst it is important to remember the valuable contribution nurses make to the NHS we must not forget that there are many other members of staff working at all levels across the Trust to ensure we provide outstanding care to our patients and they too must be thanked for their efforts during this challenging time."