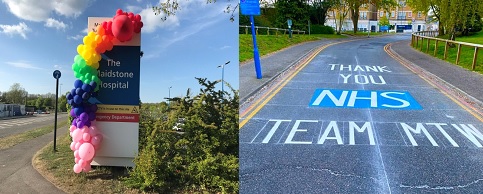 'Thank you NHS Team MTW'.
Those are the words that have been etched on the road surfaces at Maidstone and Tunbridge Wells hospital sites as a sign of support and inspiration to staff as they start their shifts and leave to go home.
The markings were installed free of charge courtesy of Roadmarking Excel which is based in Gillingham.
A rainbow balloon garland also adorns the sign at the main entrance of Maidstone Hospital thanks to J'Décor based in Maidstone. Owner Judita Knights installed the decoration on Sunday (26 April).
Maidstone and Tunbridge Wells NHS Trust's Director of Estates and Facilities Doug Ward said: "We are extremely grateful to Roadmarking Excel and J'Decor for their generous donations. I know they have put a smile on the faces of our staff as they start and finish their shifts during these challenging times.
"Since the start of the pandemic the Trust has been inundated with donations from individuals, businesses and organisations.
"Thank you to everyone who has shown their support in some way shape or form. We are extremely grateful."