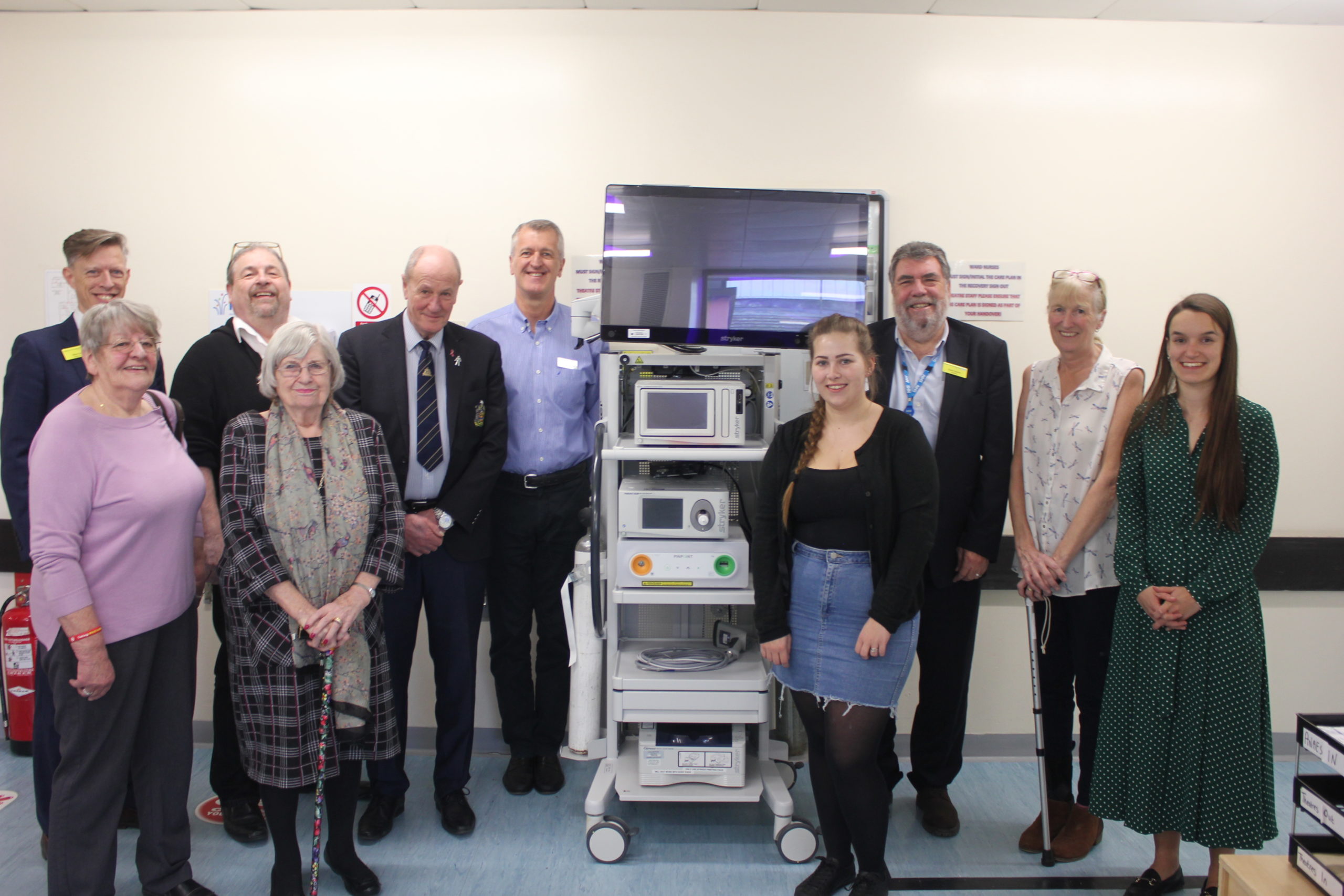 Representatives from the Peggy Wood Foundation joined doctors and nurses from Maidstone and Tunbridge Wells (MTW) NHS Trust today (Thursday 5 March) to see how cancer patients are benefitting from ground-breaking technology, thanks to their generous donation of over £172,000.
The Peggy Wood Foundation has funded the cost of the cutting-edge ICG Sentinel Lymph Node Detection System, which is used by the trust to treat patients with gynaecological cancers with MTW being one of only a few Trusts in the UK to offer this procedure.
The innovative new system has already started treating patients, with representatives from the Peggy Wood Foundation including Chairman, Bryn Annis and fellow board members, meeting MTW specialists who have been using the machine, at the event at Maidstone Hospital.
Visitors from the foundation were able to find out more about the system which their donation has funded, as they spoke with MTW staff who were treating two more patients with the new equipment on the day.
The revolutionary system provides a quicker, less invasive and more efficient technique for detecting cancerous cells, reducing patient side effects and exposure to radiation.
The new system uses an Indocyanine Green (ICG) dye and near infra-red light technology to identify the lymph glands which might have cancerous cells in them. This allows the surgeon to remove only those lymph glands and significantly reduce the time for patients in surgery by up to 60 minutes.
Previously, patients would have required a full lymphadenectomy, which involved removing dozens of lymph glands during the surgery to treat cancers, such as cervical and endometrial. This can be associated by side effects such as lymphedema, causing uncomfortable swelling of the legs.
This procedure will reduce these side effects by 10 times, with evidence also indicating the technique is more accurate than a full lymphadenectomy.
Professor Omer Devaja, Consultant Gynaecologist for Maidstone and Tunbridge Wells NHS Trust, said: "Thanks to the Peggy Wood Foundation, we can now offer the latest and most advanced treatment in the care of our cancer patients. The new system will help to significantly reduce surgery times, side effects of the surgery such as swelling of the legs, lymphatic cysts and exposure to irradiation and improve accuracy of detecting cancer cells in lymph glands.
"Without the charity's support it would not be possible to offer this specialist treatment and we are incredibly thankful to them.
"This piece of equipment will allow MTW to continue to be at the forefront of cancer treatment, ensuring we build on our 15 years of pioneering research in this field and help shape how we improve and advance cancer treatment for the future."
Bryn Annis, Chairman of the Peggy Wood Foundation, added: "This is what the Peggy Wood Foundation was set up to do. I hope this equipment saves many people and continues to help many patients in the future. We are incredibly proud to be part of this achievement and to work alongside the Trust.
"It was really special to be able to meet the staff who have been using the equipment, hear their first-hand stories about patients it has already been able to help and also see the technology in person so we can see what the donation has gone towards."
Currently the equipment is being used to treat cervical and endometrial cancer patients. MTW plans to use the system to help treat patients with breast cancer, and patients requiring bowel resection in the future.
MTW is the fifth largest cancer centre in the country and provides specialist cancer services to around 1.8m people across Kent, Medway and East Sussex. The Trust treats people from two sites based at Maidstone Hospital and Kent and Canterbury Hospital, and also runs outpatient clinics across multiple locations in the region.