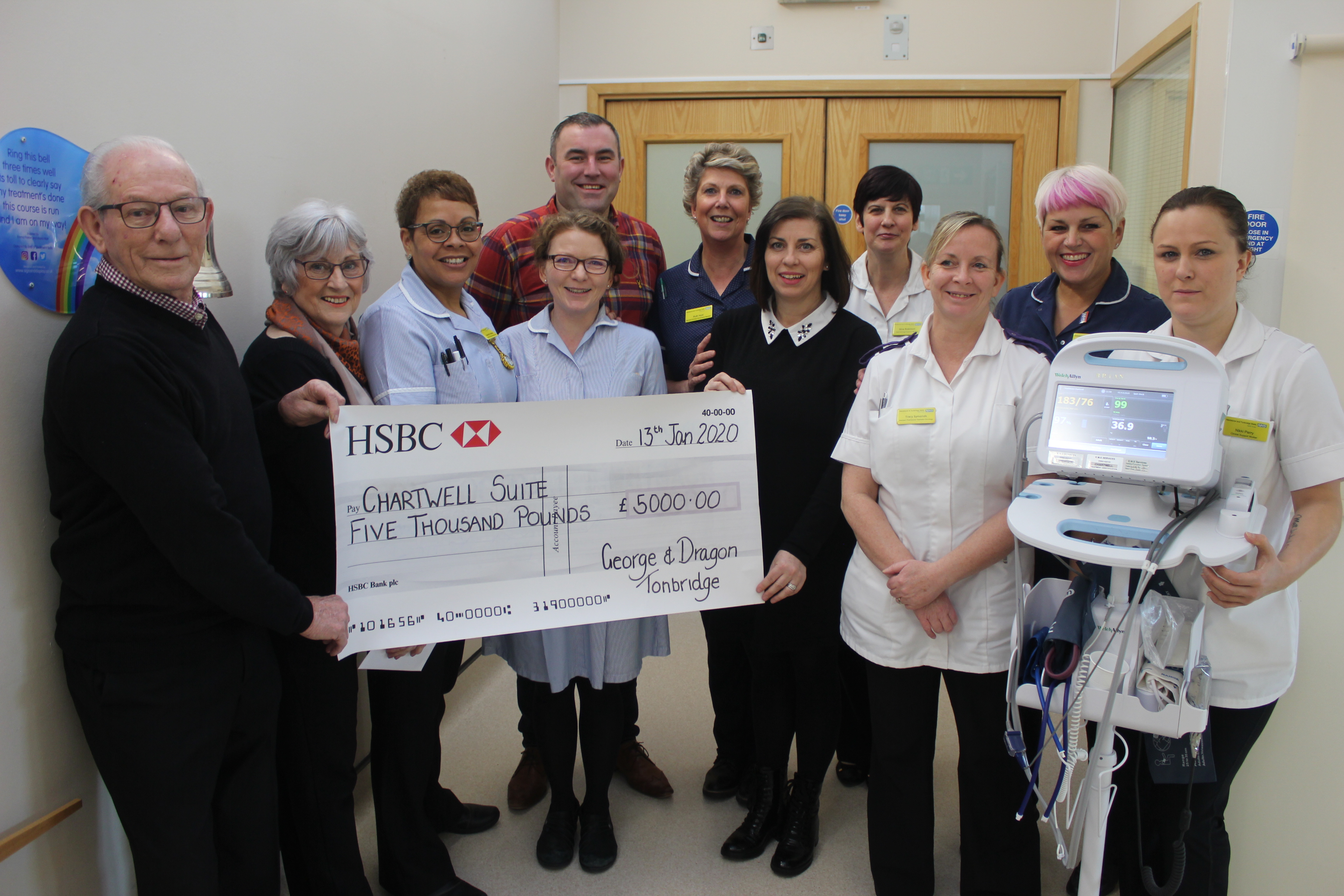 A patient and his family have donated an amazing £5,000 to help fund vital equipment for the Chartwell Suite at Maidstone and Tunbridge Wells NHS Trust (MTW) after hosting charity events throughout the year.
Raymond and Jackie Corke, from Tonbridge, donated the money to the Chartwell Suite at Maidstone Hospital on 13 January after holding race nights and afternoon tea events at the George and Dragon pub in Tonbridge, which is run by their daughter Lisa and her husband Garth.
The incredible donation was organised by the family as a thank you to MTW, with Raymond receiving treatment in the Chartwell Suite for Leukaemia and other illnesses since 2008 and being a regular visitor to the suite, currently visiting every fortnight for ongoing care.
The donation will go towards funding a brand new Vital Signs machine, designated only for the Chartwell suite, which shows the heart rate, blood pressure, body temperature and oxygen saturation of the patient as well as signalling for staff if vital signs rise or fall.
Mr Corke, said: "I think it is really important to fundraise and help your local Trust. The staff work so hard and if it makes their life and a patient's life a bit easier then it's completely worth it.
"The treatment I have received here from the beginning has been outstanding – I really can't fault it at all and it's been great to help make a small difference."
Haematology and Oncology Clinical Nurse Specialist, Ruth Hunt, added: The Chartwell Suite is a very busy unit, treating between 40 and 50 patients a day and this will incredibly kind gesture from Ray and his family will go a long way in treating patients quicker and helping our staff during their shifts.
Everyone here at the Trust would like to thank Ray and his family for all of their efforts with such a kind act of generosity."
For more information on the Maidstone and Tunbridge Wells NHS Charitable Fund and to find out how you can fundraise, please contact Fundraising Manager, Laura Kennedy via laura.kennedy8@nhs.net