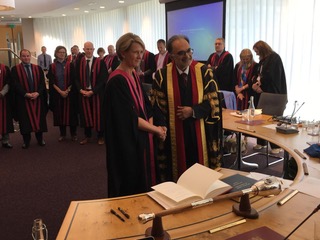 A Consultant at Maidstone and Tunbridge Wells NHS Trust (MTW) is set to take up a prestigious role as a National Examiner for the Royal College of Anaesthetists (RCoA) after being officially sworn in last month.
After months of training, observations and exams, Consultant Anaesthetist, Kate Stannard, 49 from High Hurstwood, is now all set to begin with the RCoA later this year alongside her role with MTW.
The RCoA is the third largest medical Royal College in the UK and represents and ensures the quality of patient care by safeguarding standards with examinations in the three specialties of anaesthesia, intensive care and pain medicine.
Examiners for the college are rarely selected from district general hospitals and the role is extremely difficult to obtain, with examiners chosen from consultants nationwide, making Kate's first time application all the more impressive after being urged by colleagues to apply.
To become an examiner comes with a long list of essential qualities to be even considered for the role with Kate also completing training days, role play and close observation from senior examiners during the process.
After achieving the position, Kate's new responsibilities will include ensuring the practical conduct of the oral exam for candidates at the RCoA and also being tasked to review and write new questions to ensure the exam remains vigorous and up to date.
Kate said: "I am looking forward to my new role which is going to be challenging and I hope to be able to represent our department in MTW at a national level and to be able to provide extra support to our junior doctors going through their exams.
"It is going to involve a lot of hard work on my part but in return I hope it will be of benefit to our trainees & ultimately in our recruitment. I am pleased to be able to give something back to my speciality  & also looking forward to dusting off my books!"