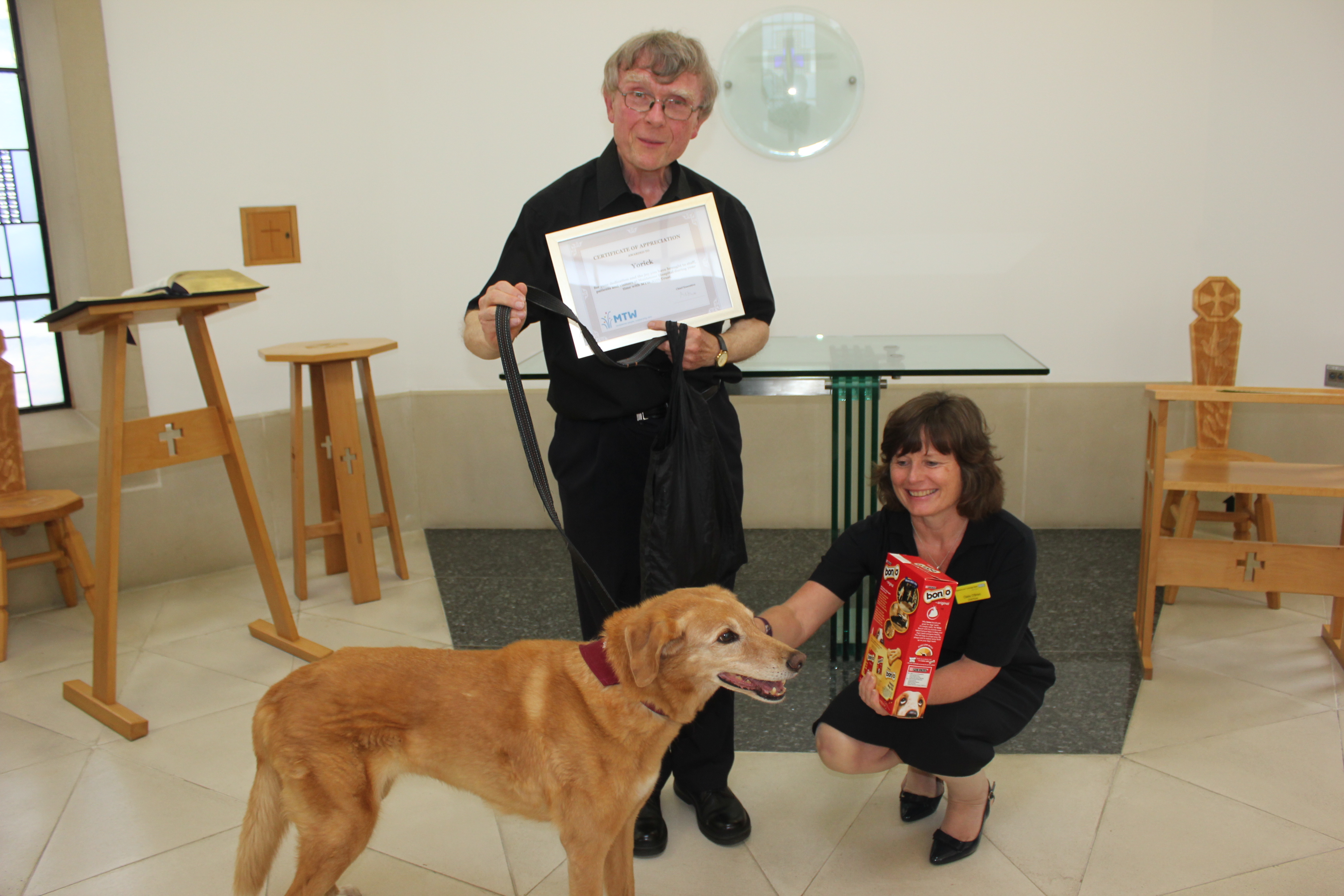 His ward visits have brought joy and comfort to patients and staff alike at Maidstone Hospital.
But after seven years of voluntary work, and at the tender age of 13, Yorick the Lurcher is retiring from his volunteering role with the hospital's Chaplaincy Team.
To thank him for his service, Chief Nurse Claire O'Brien presented Yorick with a certificate and his favourite treat – Bonio biscuits – during a presentation ceremony held at the Multi Faith Centre at Maidstone Hospital on Thursday (1 August).
As a working hearing dog, Yorick and his recipient Paul Ledger came as a pair when Paul became a volunteer for the Chaplaincy Team in August 2012.
To start with the duo attended Chapel Services and spent time in the main reception area, but by January 2013 they were visiting patients on at least 10 wards, including the Stroke Unit.  Over the years they have selflessly given up their Christmas Day afternoons and visited the hospital to help bring some cheer to patients.
Paul, who lives in Maidstone, said: "Yorick has enjoyed his time with the hospital and the 'paws-itive' impact he has had on patients has been amazing. I think the best way to describe him is 'the spirit lifter'."
Reverend Nicola Mitra, Chaplain of the Multi Faith Centre at Maidstone Hospital, said: "Paul and Yorick have been important and effective members of the Chaplaincy team. Together they do what all chaplaincy volunteers aim to do – 'befriend' people if only for a few minutes, and get them to talk about the things that may be worrying them.
"Stroking Yorick can be a great way to get someone talking. Even if someone doesn't want to talk it can be profoundly helpful just to have a reassuring presence, especially if they're feeling lonely or they don't have many or any visitors.
"Their visits to the wards really resonated with people. They broke down age barriers, abilities, and communication problems and reminded people they are more than just patients with troubling illnesses."
Cath Sampson, Ward Manager of the Stroke Unit at Maidstone Hospital, said: "Many of our acute stroke patients are bed or wheelchair bound and a visit from Yorick helped brighten up their day and put a smile on their faces when they stroked him.
"Many of our patients have lost the normal routine of their lives which means that their beloved pets are lost to them too and a visit from Yorick provided them with a bright moment during a sad time."
Renny Heald, Ward Manager for Pye Oliver Ward, said: "When patients were lonely or in pain, it was clear that Yorick had exactly the right touch.
"He really was the perfect example of how a hospital dog can bring pleasure, support and consolation to our patients. His combination of unconditional friendship, empathy and the simple ability to connect with people will be greatly missed."
Chief Nurse Claire O'Brien said: "It is clear that Yorick has brought a lot of happiness to people's lives during some very tough, sad and challenging times.
"I, along with everyone else at Maidstone Hospital, wish Yorick a very happy and long retirement."