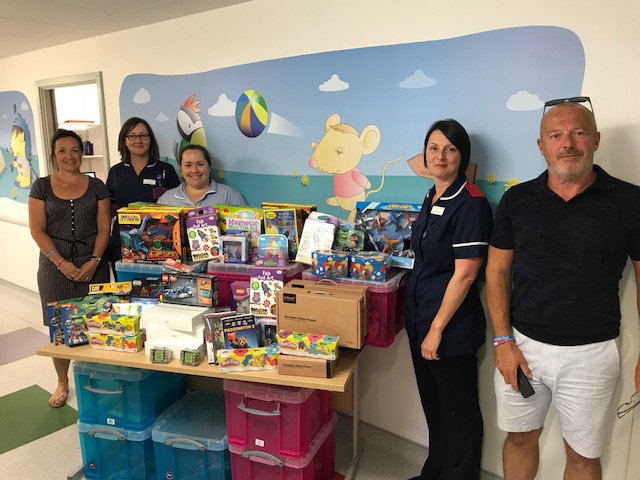 A local charity has donated toys and play equipment to help children undergoing cancer treatment at Tunbridge Wells Hospital.
Sevenoaks-based The Alexandra Sales Trust, which aims to raise a smile for children and young people affected by cancer, presented a large selection of toys and art and craft materials as well as three iPads, five DVD players and toy boxes to Hedgehog Ward this week.
The generous donation will be used for Maidstone and Tunbridge Wells NHS Trust's (MTW) special toy box scheme, which provides children who are cared for in isolation while receiving chemotherapy with a dedicated, named box of new toys. On each admission, the patient will receive a new box of toys.
The Alexandra Sales Trust was set up to create a legacy in memory of Alexandra Sales, who died in September 2014 of Metastatic Rhabdomysarcoma, a rare, rapidly spreading soft tissue cancer.
Helen Stevens, MTW's Paediatric Oncology Nurse Specialist, said: "We are extremely touched by this kind donation by The Alexandra Sales Trust and very pleased to have their support. It is particularly poignant as Alexandra spent some time with us as a patient on Hedgehog Ward.
"Hedgehog Ward cares for around 20 children receiving chemotherapy at any one time. These children spend a lot of time as inpatients on the ward, so our Paediatric Oncology nursing team and play specialists set up a toy box scheme to keep young patients entertained whilst they are treated in isolation on the ward.
"Thanks to The Alexandra Sales Trust, their generous donation will allow us to continue with our toy box scheme, which is so highly valued by children and their families during treatment."
The Alexandra Sales Trust supports children and young people, aged 1 to 24, who have been diagnosed with cancer. The aim of the Trust is to raise 'Smile Money' – to give something to young people being treated for cancer. More information about The Alexandra Sales Trust and how to donate is available at www.thealexandrasalestrust.co.uk
Anyone who is interested in donating new toys for MTW's toy box scheme should contact the play team via the ward on telephone 01892 633525 or 634254. You can also donate to MTW's charity fund to benefit children. More information is available on the MTW website https://www.mtw.nhs.uk/get-involved/fundraising/