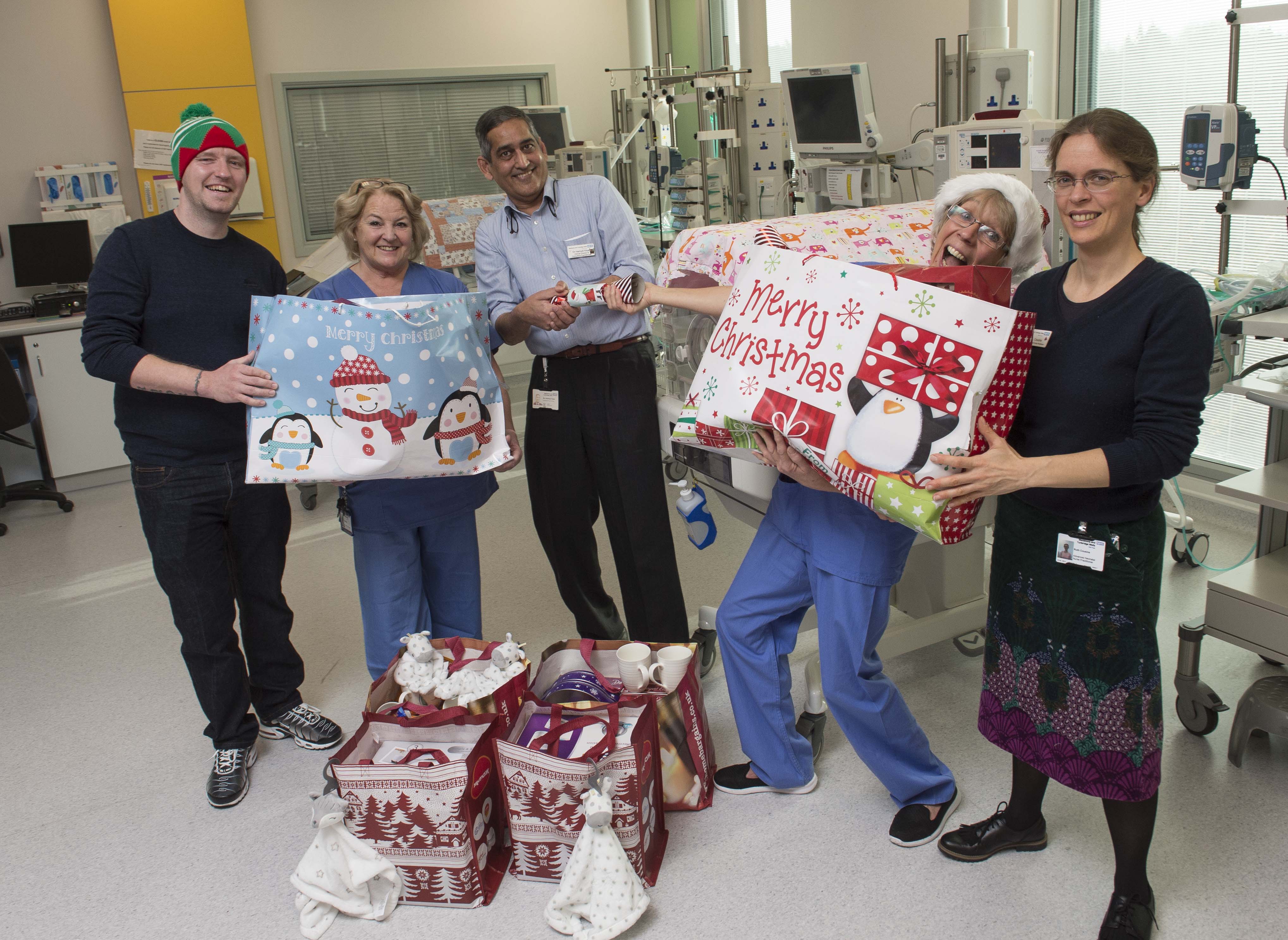 Lottery millionaires Adam and Amy Pryor have celebrated their daughter's first birthday by delivering some Christmas cheer to the Neonatal unit at Tunbridge Wells Hospital.
Adam (33) and Amy (28) were delighted that 12 months on Charlotte was well enough to return to the ward where she spent the first two months of her life.
The tot was just 3lbs at birth and the couple wanted to to say thank you to the "amazing" team who cared for her.
Amy said: "We wanted to mark Charlotte's first birthday with something special and what better way than by bringing some supplies and cheer to the ward where it all started.
"We've been in exactly the same boat as the families here today and hope that in some way our visit helps.
"This time last year we were overjoyed to become parents for the first time but heartbroken that Charlotte had such serious health problems.
"As soon as she was born, weighing 1500 grams (3.3 lbs), Charlotte was cared for in the unit by an amazing team of dedicated nurses. Despite everyone's help and support it was a terrible time for us and not the way we expected to spend our first family Christmas."
A year on, the Pryor family is happily very different but Adam and Amy haven't forgotten how important the hospital was to them, and indeed still is as Charlotte continues to require frequent hospital visits.
Adam said: "In the early days and weeks we barely had time to think beyond the next test or treatment for Charlotte, our life revolved around the neonatal unit. It was a very difficult time but everyone did their best to help us through and this year we wanted to do something to show how grateful we are.
"Although it's not much, by coming back on Charlotte's birthday we hope it will give those families in hospital this Christmas some strength, and by stocking up the cupboards in the kitchen with all manner of goodies for the families and staff they will have one less thing to worry about this Christmas."
Amy added: "Coming here today has really bought home to me how much our lives have changed. Thanks to our lottery win in August we have been able to move into a bigger home with a nice garden and space to create a playroom for Charlotte.
"Her playroom is still a work in progress but when finished will be the perfect sensory space to aid her development, and of course a space for lots of fun too!
"We've also been able to buy new cars and most importantly, I've been able to give up work without putting Adam under undue stress. Just before we won Adam was working so much overtime we barely saw him. Now he is home in time to give Charlotte her bath and help with bedtime. It's been a magical few months and long may it continue."
Julia Moat, Neonatal Unit Manager, said: "The Neonatal Unit at Tunbridge Wells Hospital caters for babies who need intensive care, high dependency or special care.
"Christmas is a particularly challenging time for families, just like the Pryor's, who were hoping, or expecting to be spending Christmas at home. Nevertheless, we do our best to make it a very special time for everyone and this donation will really help.
Adam added: "This Christmas will be so different to last. We will be safely in our new home, with family around us but I know Amy and I will spare a moment to think of those who will be in hospital this year. We hope that in some small way our donation today lightens the load just a little bit."
PIC: Adam, left, with staff