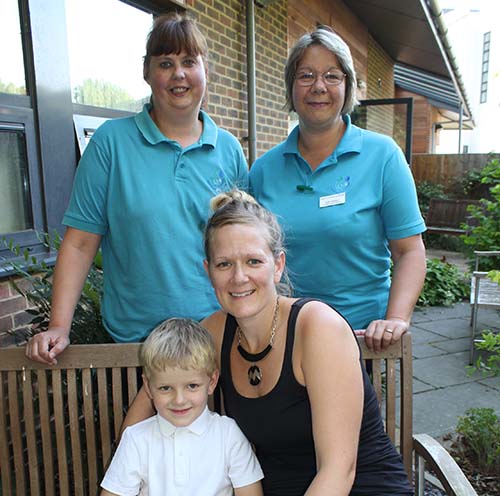 The first baby born at Maidstone Birth Centre has marked a milestone after starting primary school.
Caleb Thompson, aged four, was born on Monday 26 September 2011 and his mother, Beth, was the first to benefit from the midwifery led Birth Centre.
Caleb has just started Senacre Wood Primary School in Maidstone.
Mum, Beth Thompson, says: "Starting primary school is such a landmark and Caleb has really enjoyed his first few weeks. Having Caleb at Maidstone Birth Centre was a great experience and it's lovely to be back. "
The Centre which opened in 2011 features two birthing rooms, four post-natal rooms, double beds to allow partners to stay and a kitchen/diner. There's also a garden room that opens out to a small garden with a seating area.
Caleb is the youngest of three sons for Beth and husband, Mark and one of his favourite things is playing with the car mats at school.
Janine Absalom, Maidstone Birth Centre Manager, says: "Caleb's delivery was extra special to us as he was the first baby to be born at the Birth Centre. We are delighted that Caleb and his family have come back to visit. Caleb looks so grown up in his school uniform!"
Maidstone Birth Centre recently celebrated the 2000th baby to be born at the Centre. Tours of the Centre are available every Friday at 6.30pm and should be booked by contacting the Centre direct on 01622 220161.