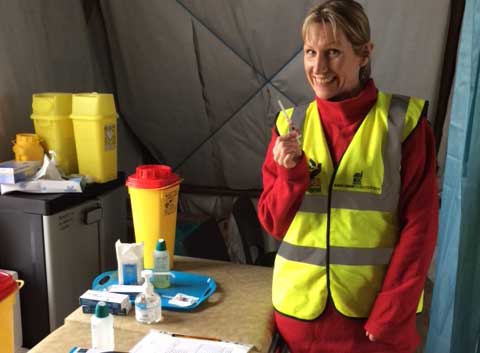 29 February 2016
When Maidstone and Tunbridge Wells NHS Trust (MTW) Emergency Nurse Practitioner, Sarah de Coverley, was approached by a former colleague who asked her if she wanted to join a charity trip to vaccinate Calais refugees against measles, she jumped at the chance.
On Friday 5 February, Sarah set off with her former colleague, Rosie Pawson, on the trip to France, armed with wellington boots and a mountain of clothing donations.
The trip was organised by charity, HANDS International (Health and Nutrition Development Society International), whose mission includes improving health, promoting education and alleviating poverty.
Sarah said: "I had no idea what to expect but I was really keen to see for myself the situation in the camp and to meet some of the people whose journeys had brought them to this place.
"The camp was probably what I had expected. It was extremely dirty and overcrowded with the majority of shelters being handmade temporary tents and structures. The camp had divided into small communities which meant the mood and atmosphere was better than I had expected, although the despair and frustration was obvious."
HANDS International have built, and staffed, a vaccination clinic within the 'jungle' and their project while Sarah visited aimed to prevent a widespread outbreak of measles by giving the vaccination to as many people as possible.
Sarah continued: "The vaccination clinic was new, clean and dry. It had become a safe place for many of the temporary residents and in addition to the clinic function, it was being used as a social hub. Throughout the day, we delivered a large number of vaccinations to children and adults alike. The youngest child was only three years old and all our skills to provide distraction and comfort were needed just as much in this situation as they are in the bright warm surroundings of Tunbridge Wells Hospital."
On the day that Sarah visited the 'jungle', the HANDS International team consisted of a number of people from a wide variety of backgrounds, including paramedics, another UK nurse and a French doctor.
Sarah added: "In the afternoon, we went around the camp to try and recruit more people to the vaccination programme. This particular project was due to end the same day and the team were then moving onto the camp in Dunkirk. While we walked around, I was struck by the friendliness and how safe I felt in this challenging environment.
"I am so glad that I was able to spend the day delivering some important healthcare in this rather troubled setting. HANDS are looking to establish a more permanent facility and I would definitely consider volunteering again. It was a really interesting and rewarding experience."